*Japanese version is here→ "施設ガイド"
Facilities
Each building has a different permission for users' making sounds.
The building on the east side of the library:Learning Commons – "Open Space" (conversation and computers allowed)
The middle of the three buildings :Building 1 (computers allowed)
The building on the west side of the library:Building 2- "Quiet Space" (no personal computers)
Facility Guide
Counter
Here you can borrow and return books.
There is also a reference desk where you can ask for a variety of information about libraries.
Entrance Gate
When entering, please scan your student ID or library card to proceed. When leaving, please exit one at a time. When the buzzer sounds, the gate will lock. In this event, please follow the instructions of the counter staff.
Self-checkout machine
Here you can borrow and renew books yourself.
OPAC Terminal
Here you may check on what materials are in stock. In addition to the Reference Books Room, there are also terminals in the Reading Rooms and in the Journal Rooms on the 1~3 floors.
Copy Corner
Since the copy machine uses a prepaid card system, you may copy documents in the library to the extent that you do not violate copyright. The copy fee is 10 yen for black and white per page and 50 yen for color per page. Please purchase a prepaid card at the Saitama University Co-op.
AV Material Viewing Corner
DVDs, videos, etc in the library collection can be viewed here. Please check videos out at the counter (Student ID is required). Removing AV materials from the library is prohibited.
Urawa National Higher School Memorial Room
This room contains materials donated by the Urawa National Higher School Alumni Association. Hours of operation are 9:00-12:15, 13:15-17:00 on weekdays. Those who wish to visit should inquire at the counter.
Stack Room
The 1st floor holds foreign books, while the 2nd and 3rd are dedicated to Japanese books.
Journal Room
The 1st floor houses publications from universities and various institutions. The 2nd floor houses foreign journals, almanacs and yearly government statistics. The 3rd floor holds Japanese journals, catalogs and indexes.
Newspaper Corner
The current issues available for reading in this corner include Japanese edition of Asahi and Yomiuri. You can also browse English-language and sports newspapers. Back issues are available in the journal room.
Lounge (1F)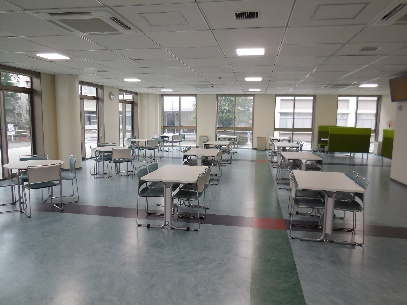 You can eat and drink only in this lounge in the library. Please refrain from eating or bringing cup noodles or soup.
Learning Commons (2, 3F)
You can have meetings and discussions aloud with any combination of tables and chairs.
Seminar Rooms (2F)
There are two rooms suitable for holding a seminar. Blu-disc players, wide screen monitors and microphones are available. You need to make a reservation in advance, so please apply at the counter.
Information Terminal Corner (2F)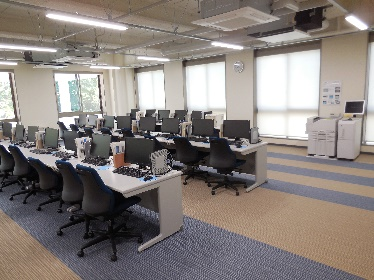 There are 20 information terminals available for online search and writing papers.
Saitama University Unified Authentication Account is necesssary for you to use them.
Support Desk
Graduate student Library Assistants (LA) provide learning support, including consultations on researching and writing papers.
Group Study Room (3F)
There are three rooms suitable for group discussions. Electronic blackboard is available. You need to make a reservation in advance, so please apply at the counter.
International Exchange Commons (3F)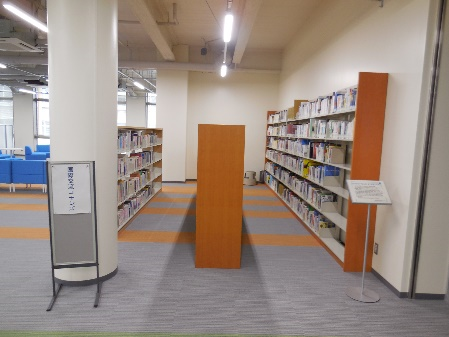 You can use basic materials for learning Japanese language culture available in English, Korean and Chinese.